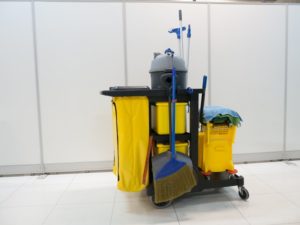 Having a clean and organized work environment is an important part of keeping a business alive and thriving. However, this detail is often overlooked since workers are more focused on their job duties than the cleanliness of the floor, or how well-organized the office space might be. When employees start leaving the office though, the impact of keeping your office clean begins to show. There are many workers who will not return to a business if it has dirty restrooms for example.
Making the right impression on your customers is the first step towards establishing a healthy mutual relationship. When people see how clean and tidy your work environment is, you are telling them that you value these components of a business. To keep your workplace clean, you want a group of people who values your business as if it were their own. If you use a commercial cleaning service, your business will thrive in many different ways.
Increase Productivity Of Employees
Stacking maintenance jobs on top of your employees' primary duties is going to take away from how much work they can get done. It's a lose-lose because you either ask your employees to attend to janitorial duties, taking time away from their main job, or you let the business become clustered and chaotic, at which point it could be hard for people to continue working in that environment. Hiring a commercial cleaning service leaves the janitorial duties to them so that your employees can focus on the jobs they came in to perform.
Higher Customer Satisfaction
The service your business provides is only one of the factors a customer looks into when deciding if they were satisfied. A clean work environment will leave a great impression on any customer. When your business is well-organized, that image of cleanliness will be sown into your customer's mind, so the next time they think of you, they will think of a tidy, organized business that they would love to visit again.
Protect The Health Of Your Employees
On average, an employee takes 7.7 sick days a year. This causes a problem because you have to hire a replacement for that employee during that time, or be understaffed, lowering the efficiency of your business. Commercial cleaning services will minimize the sick days your employees need to take, disinfecting all surfaces that employees touch each day.
Potentially Increase Sales
A clean business makes it easier to navigate for customers. Ones that are messy make items harder to find, which can deter customers. Customers that stay in your building longer are more likely to peruse through more items, and bring more sales. A commercial cleaning service will keep your business inviting to customers.
Encourages Repeat Customers
If a customer enjoys their experience, they will want that same experience again. Keeping a business clean and fresh entices customers to make return trips to get the same inviting atmosphere they were presented before. Commercial cleaning services will revitalize your business every visit, keeping items as clean and organized as possible, and making your building like new again.
Do Away With Dirt With Facility Site Contractors
Facility Site Contractors can provide a level of clearance and expertise on which you can rely. We offer a full spectrum of building support systems to ensure your company assets are clean, secure, and functional. We use a hands-on approach when keeping your business in top shape, and our clients value our approach as well as our commitment to reducing resource burden on the planet.
Contact us here and follow us on Facebook to find out how we can help you today.