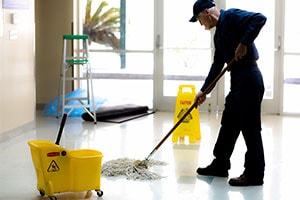 When it comes to keeping your business or commercial facility running smoothly, there are a number of services you can rely on to ensure the job gets done. Often, commercial cleaning services are the last thing on a business owner's mind. With growing the business and keeping on top of day-to-day operations, cleaning your facility can fall by the wayside. But the conditions of any work environment are important, and a commercial cleaning service can help maintain sanitary and safe conditions. When you hire a commercial cleaning service, you can rely on a team of professionals to devote their skills and experience to keep your building or facility in tip-top shape. Here are just a few reasons to use a commercial cleaning service.
Maintain Clean Conditions
Clean and sanitary conditions are absolutely crucial to a healthy and safe work environment. Commercial cleaning professionals are dedicated to the task of cleaning your facility, so you can count on them not only to take care of regular cleaning responsibilities such as vacuuming and dusting–you can also count on them to disinfect to promote a more hygienic environment. This reduces germs and bacteria in the work environment which can help prevent employees from getting sick. After all, a clean work environment is a healthy one.
Increase Productivity
Many businesses will task employees with certain cleaning chores around the office or commercial facility. However, employees can get busy and forget to do their cleaning task, leaving chores to pile up. In the meantime, the office gets dirty and dusty, which can irritate allergies and decrease morale. With a commercial cleaning service, employees can focus on their work without worrying about additional cleaning tasks. Plus, a cleaner environment can boost their focus. With fewer allergens and irritants in the air, employees will feel better and be better able to concentrate on their day-to-day responsibilities. This can increase workplace morale and even boost productivity.
Boost Professional Image
When customers, guests, and new employees enter your commercial building, it's important to make a good first impression. Messes, built up dirt and dust, and hygiene issues are all indicators of a poor work environment and make a poor first impression on any visitors. But a clean work environment is crucial for a strong professional image. With this image, you can send a message to visitors that your business is reputable and trustworthy. An atmosphere of professionalism is also important for employee morale, helping workers to feel like a team in an environment where their work is valued.
Call Facility Site Contractors, Inc.
Facility Site Contractors, Inc. offers a full spectrum of construction management, facility management, and facility support services. With a hands-on approach and attention to detail, we look forward to meeting and exceeding your expectations. We're conveniently located in Central Maryland, and known from Baltimore to Fairfax for quality and trust. Contact FASCON today by giving us a call at (410) 536-9003. And don't forget to check out and follow our Facebook page!