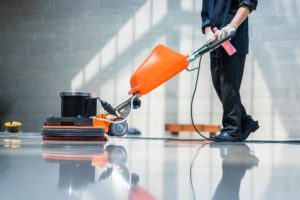 Government spending cuts can leave organizations in a bind, trying to find services for their businesses while also reducing their costs. As a means of managing their budgets, outsourcing custodial services is becoming a more common practice among companies. Along with reducing costs, outsourcing custodial services is a better option for handling your facilities maintenance for a plethora of reasons.
Cost Effective
When you outsource custodial services, you instantly start saving money. This is largely in part due to how efficient an expert cleaning staff can be. Professionals can do a more thorough job in a shorter amount of time. A professional maintenance company will also get the best price for their equipment. Also, you save time by not going through the process of recruiting, screening, hiring, and training your employees. When you outsource your custodial services, all of the time-intensive tasks such as health care and employee status verification are now your building maintenance contractor's responsibility instead of yours.
Responsive
A professional cleaning service understands that you have many options available for providing you service. A good custodial service will want to stay with your business, meaning they will be sure to provide the best services they can so you won't want to look elsewhere for services. These companies are also very adaptive and can adjust to your needs with ease. No matter what your requests are, a professional custodial service will meet the specific needs of your company.
Experienced
Outsourcing custodial services to an expert cleaning company means that you get better service in less time. Professionals will have advanced methods of finishing the job that will leave you satisfied. Their services can range from industrial-grade cleanings to smaller services such as carpet cleaning. However, big or small, professional custodial services will have the tools to get the job done right.
Transfer Of Management-Intensive Duties To Service Contractor
Any issues revolving around the management of your custodial services will be your contractor's responsibility, not yours. This includes everything from staffing problems, cleaning standards, the gathering of supplies, and equipment. These are the problems lifted off your shoulders so you and your staff can focus on other tasks.
Transfer Of Liability & Insurance Costs To Cleaning Service Contractor
In that line of work, there are certain liabilities that can be linked to cleaning staff. Making sure you are properly covered comes at a cost since coverage must be adjusted as the staff and services change. When you outsource custodial services to experts, you save time and money because they will insure their employees. It's even possible that they may add you or your facility owner onto their contractor's policy, giving you extra protection from third-party litigation.
Let Facility Site Contractors Keep Your Business Clean
Our management team is made up of experienced experts with knowledge on all aspects of construction and facilities. Facility Site Contractors has the capabilities to meet all of our clients' critical infrastructure needs CONUS and OCONUS. We are committed to practicing sustainable principles to achieve the integrated benefits of environmental, social, and economic sustainability. Since founding in 1990, we have been employing sustainable practices in daily operations to reduce our resource burden on the environment and to ensure we have a positive impact on our clients.

Visit our website to see how we can be of service, and be sure to follow us on Facebook.