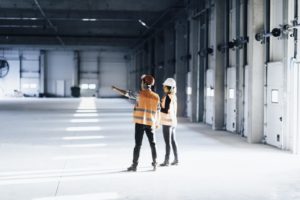 Pre-construction services are any services, such as consulting, planning, or analyzing, which occur before the construction stage begins. These services are most often a separate agreement and contract from the construction contract. Most importantly, establishing a pre-construction relationship allows you to try out a contractor, and terminate the relationship if it isn't meeting your needs or expectations before you commit to the construction work. Discover five reasons to invest in pre-construction services for your next project.
Engineering Assessments
The engineering assessment is used to analyze the current conditions of the space where you want your project to happen. This could be an assessment of the land, or an assessment of the existing plumbing, electrical, and HVAC. Either way, it is important to know what you have before you can determine what you need for your dream to be a reality.
Initial Schematic Designs
Once they have taken field measurements and done the engineering assessment, your pre-construction services contractor can produce an initial schematic design. This initial design can help you visualize how the project will actually take shape. It can also help you to ensure that you really do have enough space for the project that you're envisioning.
Preliminary Construction Budget
Based on the assessment and preliminary design, they will also be able to help you build a preliminary budget. This won't necessarily be a bid, but it can be a good way to get a sense of what comparable projects cost, especially if you have no idea where to start in your budgeting. This step of the process can also provide useful info for the lending process once you get to it.
Responsibility Matrix
This is a listing of which parties would be responsible for which deliverables on the project. It will lay out what interdependent responsibilities fall to the contractor, the building or landowner, and the client. It can also be a good tool to visualize how many contractors or tradespeople your project is going to need before you dive in.
Preliminary Construction Schedule
Finally, once all of this information is figured out, a preliminary timeline can be built. Your pre-construction services won't be able to give you a formal timeline and schedule until all of the decisions are finalized, but this preliminary schedule can help you determine lead times, the sequence of construction, and a rough estimate of the completion date.

Call Facility Site Contractors, Inc.
Facility Site Contractors, Inc. offers a full spectrum of construction management, facility management, and facility support services. With a hands-on approach and attention to detail, we look forward to meeting and exceeding your expectations. We're conveniently located in Central Maryland, and known from Baltimore to Fairfax for quality and trust. Contact FASCON today by giving us a call at (410) 536-9003. And don't forget to check out and follow our Facebook page!